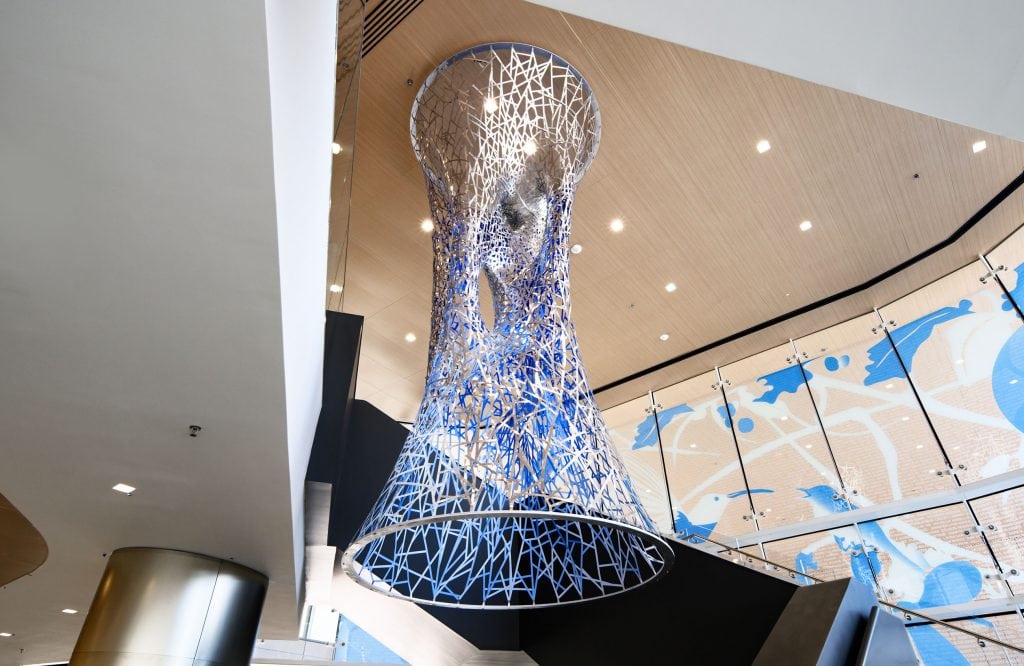 Nest San Antonio, TX 2023
Nest was commissioned by University Health's SaludArte: Art of Healing program. The 8' x 8' x 18' suspended artwork hangs in the center of the grand stair as the keystone artwork in the main entrance lobby of University Health's new Women's and Children's Hospital. The gravity formed thin shell sculpture is made of linear pieces of laser cut aluminum that are assembled in a woven pattern much like a bird's nest. Inspired not only by how nests are constructed, but also as a place where birds lay their eggs and nurture their young. Nest was also conceived as an artwork in dialogue with Priscila De Carvalho's glass-based artwork Mother Birds to spatially reinforce the hospital's mission to care for mothers and children. The organic and natural form of Nest offers visitors many interpretations, a nest, an artery, a woven basket, or a child's toy. While the form's ambiguity can speak to a spectrum of groups, it was designed with the spatial experience of the surrounding stair in mind. The round artwork has no directional preference and looks different from all angles. As visitors ascend the grand stair, the branches in the middle of the form were designed to create surprising, framed views of the double height space, other people, and exterior activity through the glass façade of the entrance.
While the form of Nest is creatively inspired by natural processes and the structure of a bird's nest, physics simulation software was used to achieve the final form. The thin shell structure is made of aluminum that is less than 2 mm thick, utilizing the overall form to enhance its structural
stability. In that sense the strips act like a network distributing the structural forces throughout the artwork. The branching form is designed to provide unexpected views through the sculpture as people ascend the stairs and is optimized so its overall form is a structural stable surface. The complex curvature gives it strength so it can be made with 1mm thick aluminum strips. Nest is made of over 4000 unique laser cut aluminum strips. Each is cut to a unique length and the inside surface of each strip is a shade of blue that is electrostatically painted. Custom software was used to randomize the placement of the strips while retaining the points of the grid shell that gives the form its structural integrity. This randomization produces a woven-like assembly system that appears idiosyncratic but is actually very precise. Each strip is labeled for placement and a custom three-dimensional interface was developed using the computer model. This was used during installation to locate the position of each strip and allowed our team to assemble Nest on site in a week.
Photos: Mark Greenberg
More about the process:
Photos of the installation
Woven Assembly Prototypes
Form and Color