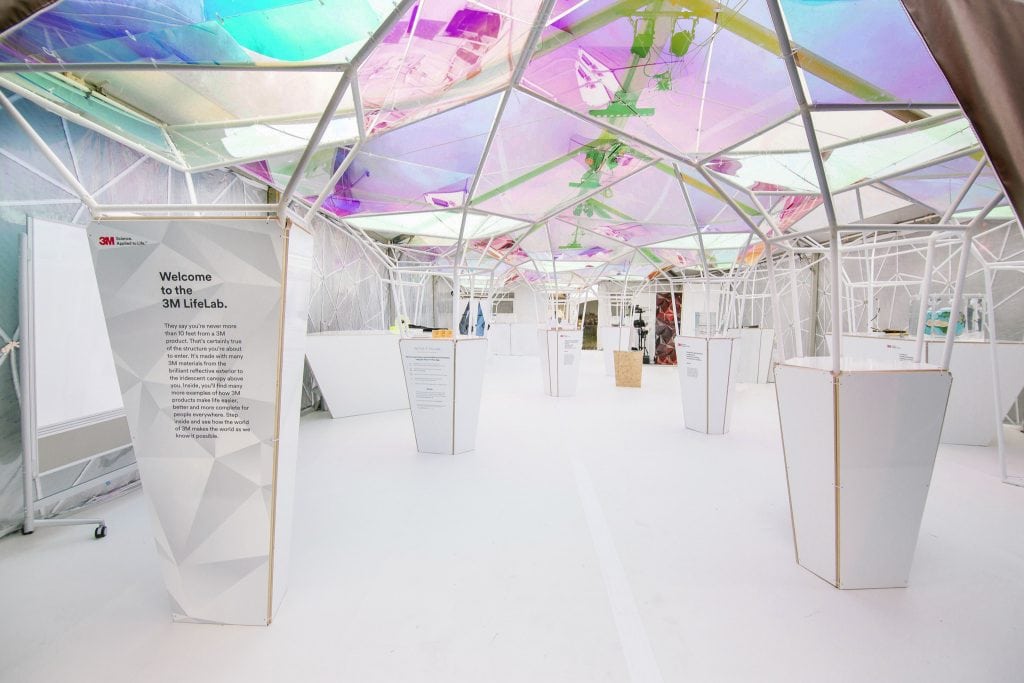 3M LifeLab Austin, TX 2015
We worked with 3M and BBDO to create the 3M LifeLab at SXSW. The structure was not simply a space that showcased 3M products, but was created using some of the amazing materials created by 3M. We designed a multi-functional structure that acted as a ceiling, spatial divider, and custom interior display elements. The modular structure was designed to turn the interior of the 3M pavilion into a kaleidoscopic prism using 3M's dichroic film. As visitors move through the space and the sun passes over the tent during the day the color and reflectivity of the film changes. All of the interior elements were laminated with glossy white Di-Noc, a 3M architectural finish. The Di-Noc captured the light cast by the sun through the dichroic film above creating a dynamic landscape of light that changed throughout the day. The exterior of the tent was clad in a custom surface made of triangles of Scotchlite fabric that were held together using zippers. It is one of the first times the retroreflective material was used at an architectural scale.
The various elements and details in 3M LifeLab were designed to work together to create a cohesive and dynamic experience echoing the same work that goes into the material science used to develop many of 3Ms products.
We thought of the interior as an atmospheric material created through light and program that visitors would walk through. The detailing of all these elements was driven by the need to deploy the structure very quickly and retain a tactility that is both playful and innovative. To do this we used over 3000 3M cable ties to construct the display and bar elements as well as the complex dichroic ceiling. The modular structure was made of aluminum pipe that snapped together quickly using over 1200 unique 3D printed joints and sockets. We developed a custom joint detail that allowed each modular element to go together in a matter of minutes by simply snapping the lengths of powder coated pipe together.
Find out more about the process:
Joint automation
3D printed snap fit joints
Photos of the installation